9009-42A IBM Power9 S924 IBM i AIX System Upgrades and Pricing for EP1E EP1F EP1G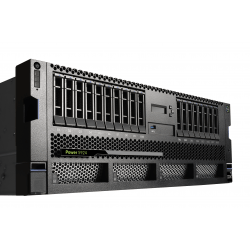 IBM Power9 9009-42A and 9009-42G S924 Model Specifications Comparisons Pricing

IBM Power9 9009-42A and 9009-42G S924 Power9 scale-out models are completely cloud enabled out of the box with integrated PowerVM Enterprise capabilities for IBM i and AIX workloads. IBM Power9 on-chip analytics and algorithms enable workloads to run at optimized processor frequency for performance and throughput. The 9009-42A S924 models have two sockets, are all in a P20 software tier, and processors provide unmatched memory scaling and core to memory ratio needed for data-centric and in-memory workloads. IBM Power9 9009-42A S924 Specifications: 32 DDR4 Main Storage DIMM slots in 16, 32, 64 and 128 GB increments for a maximum of 4TB of Power9 memory and 12 or 18 SFF SAS Bay options for internal Power9 Disk Drives or SDD. Want to upgrade to IBM Power10?
IBM Power9 Models by CPUs:
9009-42A EP1E 8-Core 18188-145500 CPW
9009-42A EP1F 10-Core 17450-174500 CPW
9009-42A EP5H 11-Core 17745-195200 CPW
9009-42A EP1G 12-Core 15446-370700 CPW
9009-42A EP1E 16-Core Two Socket 18188-268500 CPW
9009-42A EP1F 20-Core Two Socket 17450-318000 CPW
9009-42A EP5H 22-Core Two Socket 15909-350000 CPW 
9009-42A EP1G 24-Core Two Socket 15446-370700 CPW

This email address is being protected from spambots. You need JavaScript enabled to view it.
 Learn about the differences between Power8 and Power9 Systems here.
---