VTL Data Backup Restore Online AWS Archival Virtual Tape Library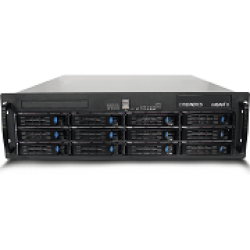 A VTL is the fastest system and data backup restore solution available that does not involve system to system replication. Many VTL's do not support any platform, but our VTLs support any OS and backup software. Any server or system that supports iSCSI, SAS, Fiber, GbE, USB or a LVD SCSI connection can attach any one of the seven VTL models. Even IBM i, iSeries and older AS400 systems are also supported. VTL backup solutions are much faster than LTO tape drives, require little to no operator involvement, have no ongoing costs, and switching from a tape backup solution can be effortless. A VTL backup solution will shrink backup windows, eliminate all the hassles, expenses and issues tape backups have, and allow consolidation of data backups of other sources. Why would an IT department not use a VTL for data backups, and still use a tape drive?
VTL backup speed, tape drive and encryption support, upfront and upgrade costs are the most common considerations we hear about when comparing Virtual Tape Library products. If VTL backup speed is critical, check transfer rates and type of Deduplication process. Most VTL's use inline deduplication such as Data Domain and Falconstor, which dedupes the data backup as it is being written to the drives, which slows it down. A post deduplication process will dedupe your backup data after it lands on the VTL, allowing for a maximum transfer rate to be achieved. Very few VTL's support offloading backups to media, especially in an encrypted format. Make sure the VTL has flexibility for adding additional storage, if you do not have a very flexible budget. Not all VTLs support an iSeries IPL, so get this in writing. The right VTL backup solution will fit into your existing environment, without causing you to change a thing, including your current processes.
---