8286-41A IBM Power8 S814 iSeries Systems Processors Parts Upgrades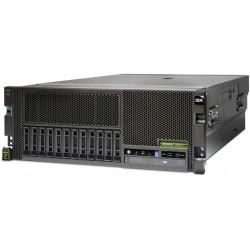 8286-41A IBM Power8 S814 iSeries system models, upgrades and parts are available in 4, 6 and 8-core configurations for up to 85,500 CPW, has eight DDR4 CDIMM memory slots for up to 1024 GB Power8 main storage, 32TB of internal Power8 disk space and eight PCIe hot plug Gen 3 slots. Maximums are for the 8286-41A iSeries Power8 S814 6-core and 8-core models. Go to iSeries 8286-41A product pages below for detailed S814 processor specifications and pricing or go to 8286-41A AIX systems page here.
8286-41A EPX6 8-Core Power8 Processor, 85,500 CPW, P10
8286-41A EPX0 6-Core Power8 Processor, 59,500 CPW, P10
8286-41A EPXK 4-Core Power8 Processor, 37,440 CPW, P05

8286-41A S814 Data Sheet   |  8286-41A S814 Technical Overview
Other IBM i Power8 models include: 8286-42A S824, 8284-22A S822, 8284-21A S812. All IBM iSeries systems and parts are IBM Certified and eligible for IBM i Maintenance contracts and include warranty.
---