ThinkAgile VX Series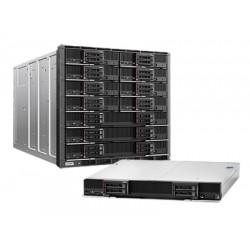 vSAN Hyperconverged Architecture
Differentiating yourself from the competition is vital in today's fast-moving business environment. To support your business, IT systems must be simple, agile, and cost-effective so you can meet your customers' requirements to be ever online. Lenovo ThinkAgile VX Series enables you to meet these requirements by focusing on the business outcome you require, rather than on building your infrastructure.
ThinkAgile VX Series, powered by VMware vSAN, is available in several models. Each is preconfigured, pretested, and optimized to provide the simplest way to bring a new VMware hyperconverged environment online. If you have an existing VMware environment, the VX Series can integrate into it easily.
Designed for any size business from SMBs through large enterprises, VX Series can be used as infrastructure for remote office/branch office (ROBO) and retail stores as well as virtual desktop infrastructure (VDI) and enterprise applications.
Buying vs. Building Infrastructure
Typically, VMware vSAN installation is very much a do-it-yourself project. Customers must configure, test, debug, optimize, validate, etc., on their own. However, ThinkAgile VX Series eliminates all of that time and effort by completing those steps before it leaves the factory.
VX Series arrives with the hardware configured, software installed, and Lenovo professional services to integrate it into your environment. This makes VX Series easy to deploy and provides faster time-to-value and reduces your costs.
VX Series is simple to manage and operate. With compute, storage, and virtualization resources integrated into a single node, it enables you to dramatically simplify your infrastructure by pooling multiple sets of node resources into a single virtual structure for more efficient utilization and management. Plus, the infrastructure scales rapidly to meet the growing needs of your business. Solutions include next-generation Intel® Xeon® Processor Scalable family CPUs, with up to 36% total performance improvement compared to the previous generation.*
There is no need for expensive IT overprovisioning. You can wait until you actually need additional resources before you pay for them.
---
The 2U 1-node Lenovo VX 7000 Series model is engineered for high-performance workloads (for example, in-memory databases) and optimized for I/O-intensive operation.
The 2U 1-node Lenovo VX 5000 Series model is engineered for storage-heavy workloads (Big Data/Analytics, email, etc.) and offers a high-capacity model.
The ThinkAgile VX 3000 Series models are available as a 1U 1-node form factor, 2U 4-node form factor and a 2U form factor with GPUs. All VX 3000 Series models are engineered for compute-heavy workloads (business applications and VDI) and are available in all-flash and hybrid models.
The ThinkAgile VX 2000 Series models are available as a 1U 1-node form factor. The VX2000 series is designed to provide optimum performance and capacity for small and medium-sized business.
The ThinkAgile VX 1000 Series models are available as a 1U form factor. The VX1000 series is an ideal 1-socket rack server for small businesses or remote sites that need industry-leading reliability, management, and security, as well as maximizing performance and flexibility for future growth.